SDL Showcase Exhibits 
Local artisans and crafters who live within within SDL's service area (CPS School District, Sanilac Township and a portion of Forester Township), are invited to share their original artwork such as baskets, ceramics, glassware, jewelry, pottery, sculpture, woodwork and other three dimensional crafts for exhibit in SDL's showcase. Other items of interest that promote local businesses and organizations may also be exhibited from time to time. Items must be able to fit inside the display case.  Contact the library director at sanilacdistrictlibrary@yahoo.com for more information scheduling an exhibit. Art Exhibit Policy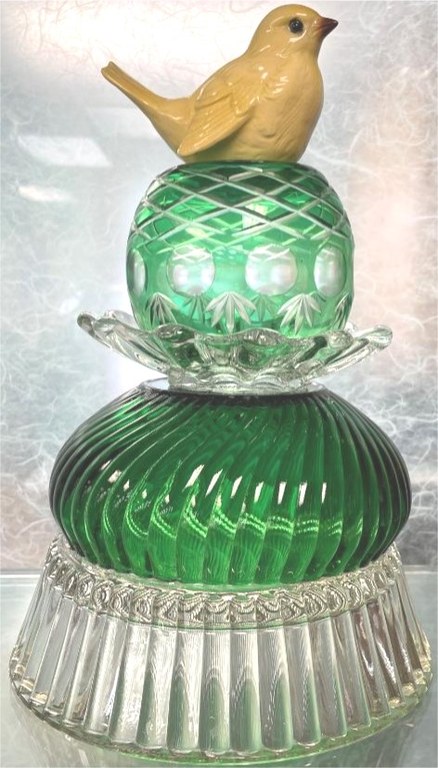 Marsha Farenger and  Paula Lyall repurpose vintage glassware by creating "garden totems." These one of a kind glass statues look absolutely beautiful in flower gardens where the Michigan summer sunshine makes them sparkle amongst all the pretties in the  landscape. The sculptures may also be used as centerpieces on a patio, dining room table, placed inside on a window ledge to capture the sun or anywhere imagination strikes. 

All Glamourous Glass creations are for sale, usually priced between $15 and $30, dependent on the types of glass used. Information provided by Glamorous Glass. 

The artwork is much more beautiful than this picture depicts.