Library materials may be sent free to the homes of those who are unable to read standard print material due to a visual or physical disability.  
The Library for the Blind and Physically Handicapped (LBPH) was established by Congress in 1931 to provide free reading materials for visually impaired American citizens throughout the world. The LBPH service was later extended to people with other physical disabilities, including learning disabilities in children.
The St. Clair County Library System is the LAMTB regional center serving Huron, Sanilac, St. Clair and Tuscola counties.
Check out their website: LAMTB call 1.800.272.8570 or Email: LBPHStaff@stclaircounty.org  for more information.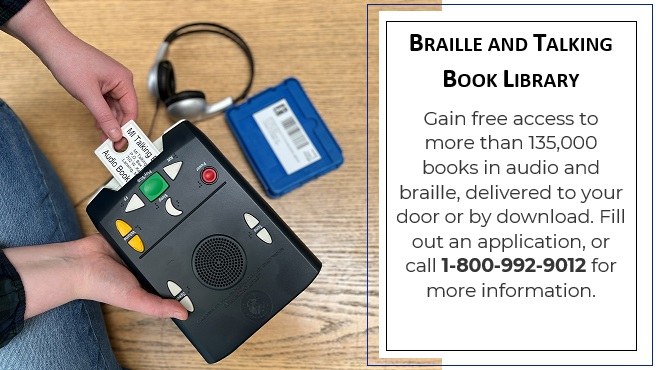 The Michigan Braille and Talking Book Library (BTBL) provides books and magazines in audio and braille, free of charge, to people who are blind, have low vision, or have a physical, perceptual, or reading disability that makes it difficult to read regular print. 
The National Library Service for the Blind and Print Disabled (NLS) has made it easier for people with reading disabilities to enroll. Now reading specialists, educators, librarians and school psychologists may certify the eligibility of applicants with reading disabilities.
Email: btbl@michigan.gov or call: 1-800-992-9012
What Services are Available
Free materials & equipment include:
Books in Braille

Described videos

Large print books and magazines

Magazines in Braille or audio format.  

Picture/Braille books to be shared with sighted individuals

Talking books in audio format:

 

best-sellers, mysteries, westerns, biographies, how-to books, magazines and other types of materials found in a public library for children and adults.
These publications are not condensed and contain all the information found in the print version--right down to the book jacket. The only difference is that the materials are published in large print, recorded or printed in Braille.
Free equipment includes:
Audio book machine

Special adaptive equipment such as breath switch, extension levers, remote control units & amplifier headphones
This service is FREE! Materials and equipment are sent to your home and returned to the LBPH postage free through the U.S. Mail. Return cards are attached to materials. Talking books, magazines and movies are to be returned after being used. Audio reading machines are the property of the federal government and must be returned when no longer needed.
Who is Eligible
Children and adults who meet any of the following criteria are eligible for the program. Schools, nursing homes and facilities that have eligible clients or patients are also welcome. 
Deaf

Difficulty reading standard size print

Legally blind

Learning disability

Physical handicap: either a permanent or temporary condition. A person recovering from an accident or surgery might qualify.

Reading disability

Visual handicap
Applications
Mail the completed application to your local cooperating library found at www.loc.gov/nls/find.html 
or call 1-888-NLS-READ (1-888-657-7323).
Complete the form, select the types of materials you need and choose your reading preferences. When you apply for the service, you choose the types of books you like to read and how frequently you want to receive them. A catalog of new books is mailed to you every two months. Books are chosen for you using your profile and the request list you have established. You may update your profile or request specific books and magazines at any time.
Applications must be signed by a certifying authority such as a doctor of medicine or osteopathy, registered nurse, therapist, or professional staff person of a hospital, institution or social agency, such as a social worker, case worker or counselor. Certification may also be made by a librarian recognized by the Library of Michigan. 
The Directory of Visually Impaired Services is a resource guide published to create awareness of the hundreds of organizations, services and activities that are available to those with visual impairments. The fourth issue has almost 900 listings.  The Directory was created for Michigan residents, but includes hundreds of resources that will benefit people across the United States and around the world.
The Bureau for Services to Blind Persons, a state government agency, provides state and federally funded services to legally blind people of all ages in every county of the state, so that people who are blind or visually impaired may be independent and/or employed in the careers of their choice. Services are provided in-home, at week-long Mini Adjustment Program seminars held at various locations around the state and at the residential MCB Training Center in Kalamazoo. Specific services include training in skills of blindness (such as using a white cane or dog, reading and writing Braille, getting around indoors and around town without vision, using kitchen appliances and cooking without vision, etc.), adaptive aids, and more. Business services are provided to businesses that employ people who are legally blind, so that qualified blind employees may find jobs and remain on the job.